The Concrete Project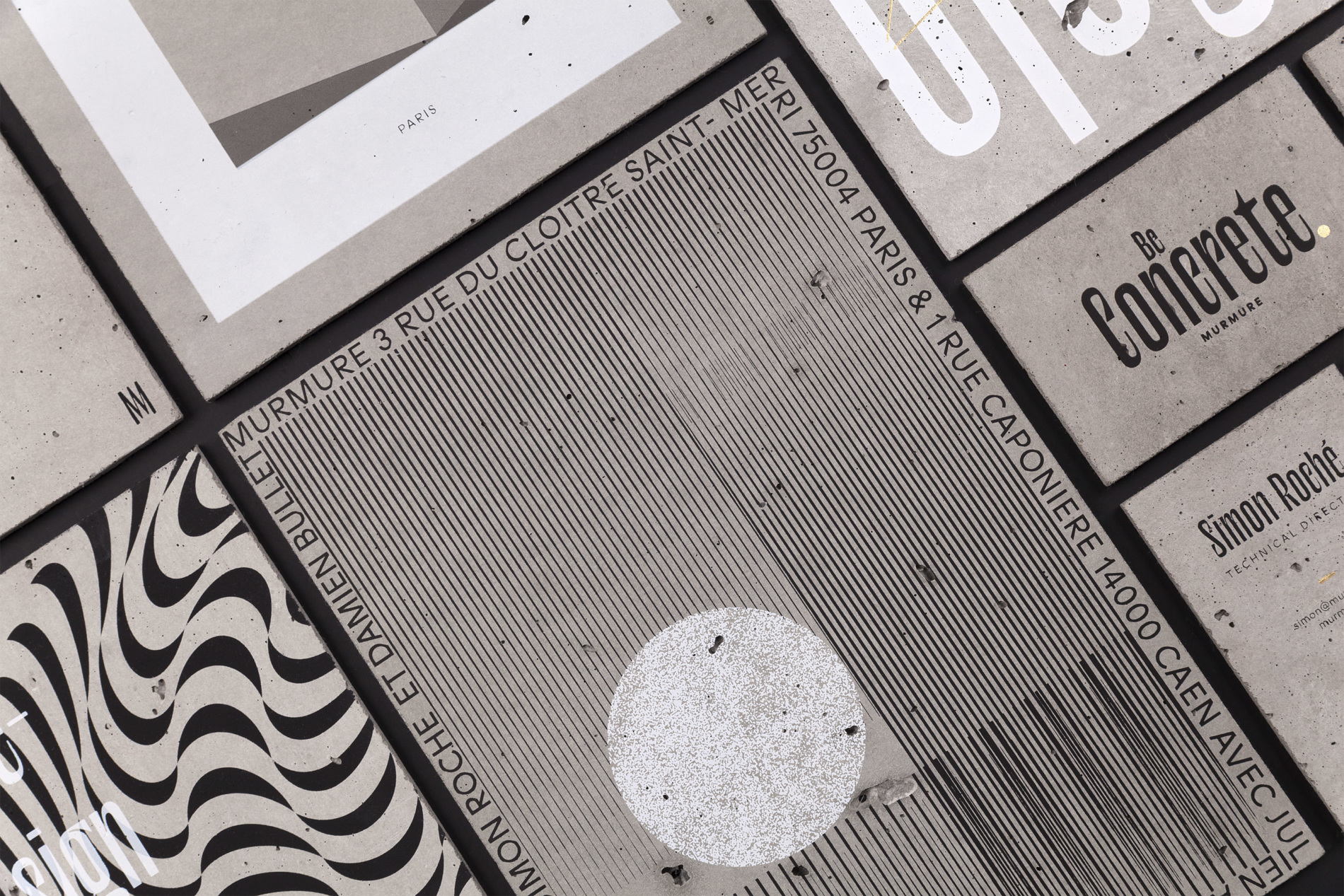 Murmure
Artwork & concept
Secteur
Communication
2018
"The Con­crete Pro­ject" is a side pro­ject Murmure has ini­ti­ated and developed in part­ner­ship with the Première Presse work­shop. It enables silk-screen and gold leaf print­ing to be achieved on com­mu­nic­a­tion mater­i­al made out of premi­um concrete.
Concept
After cre­at­ing con­crete busi­ness cards back in 2010, the agency wanted to take the idea one step fur­ther. Murmure and the Première Presse work­shop have there­fore developed a pro­cess and tech­niques which enables many formats to be pro­duced. Thanks to con­crete which proves ultra-res­ist­ant and remark­ably del­ic­ate (between 3 and 4 mm thick), we are able to design premi­um con­crete com­mu­nic­a­tion mater­i­al which proves fine, eleg­ant and fea­tures many mat­ter details.
High-performance, ultra-thin and resistant concrete
Manufacturing process
An artis­an­al and cus­tom-designed pro­duc­tion in our work­shops in Par­is enables man­u­fac­tur­ing to be fol­lowed up from the stage where the mater­i­al is being pre­pared up to deliv­ery, not to for­get the print­ing process.
Manual silk-screen printing using water-based ink and 24-carat gold leaf
Apply­ing the gold leaf, so del­ic­ate, offers per­fect con­trast with the mater­i­al host­ing it: con­crete, its tex­ture, its irreg­u­lar­it­ies and its roughness.
Murmure has designed a range of pretext creations in order to test the manufacturing process
A mod­ern graph­ic cre­ation which plays on the con­trast between mater­i­als and adding a pro­jec­ted shad­ow pro­duced in an A5 format.
The gold leaf contrasts with concrete and enhances its rough patches
Each medium and each copy is unique
The agency has designed graph­ic cre­ations which enable a play on col­ours, formats and the use of gold leaf.
A graph­ic cre­ation which enables the sin­gu­lar­ity of each con­tour and medi­um to be high­lighted. The over­all com­pos­i­tion is heightened by a ring of white mat­ter (adding an addi­tion­al going-over).
A graphic creation that exploits the thickness and substance of each slice
Revamp­ing busi­ness cards to offer a cre­ation that is simple and effect­ive, high­lighted by a hint of gold.
Large format creations enable the substance to be penetrated
A creation based on digital noise and gold leaves while produced on an A4 format
The agency has designed a series of graph­ic visu­als which enables spaces of raw con­crete to expand. A 3D ball, recur­rently used, can be removed from the cre­ation through a pro­jec­ted shadow.
The delicacy and charm of halftone screen printing
A typo­graph­ic cre­ation of the A5 invit­a­tion card vari­ety, on which inform­a­tion is at the heart of the com­pos­i­tion. The over­all design is high­lighted by a touch of gold leaf printing.
Simple and effective graphic creations which are produced in 2 steps
The thinness of the concrete which is approximately 3 mm thick.
It is the equi­val­ent of a 2×700 g mul­tilayered sheet of paper. It adds nobil­ity and res­ist­ance to the object whilst favour­ing the material's elegance.
Credits
Art Direction
Julien Alirol
Paul Ressencourt
Technical Direction
Première presse
Photography
Edouard Ducos